Ground Opening Ceremony
Notify the commencement of excavation of the remains
※ Hosted by regional commanding officer in charge (corps or division level) and accompanied by local governor, war veterans, and related personnels.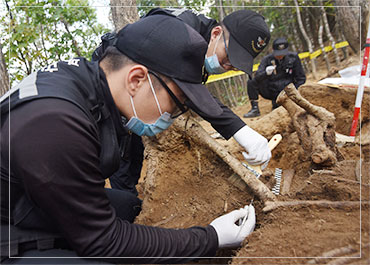 Recovery/Collection
Apply forensic archaeological techniques by recovery professionals to conduct precise recovery operations.
※ Utilize KIA Total Information System(KIATIS), data is recorded on a real time basis
Casketing in a paulownia coffin in accordance with the Korean traditional courtesy
(draped with Taegeukgi)
※ Recovery work is done with ultimate courtesy and respect.
Preliminary enshrinement
Ceremony is held at a field mortuary in the nearest military base.
※ Enshrinement should be carried out until the sunset of the recovery day with utmost courtesy
Recovery Site

Ground Opening Ceremony for the commencement of the Recovery process

Recovery Opening Ceremony1

Recovery Opening Ceremony2

Precise recovery employing Archeological Forensic Techniques

Remains Recovered from the rocky area of Jeohak-ryeong

Remains Recovered from the top of Eoryeong mountain

Conveyance of KIA Remains